Deulaegon Byeog ( 드래곤 벽 ) is a city of Gojoseon. It means Dragon Wall.
Town leaders: Cheol-ui Wang (철의 왕) and Aleumdaun Jangmi Wang ( 아름다움 장미 왕)
Army General: Woo-jin Han (우진  한)
Navy General: Byung-ho ( 병호 한)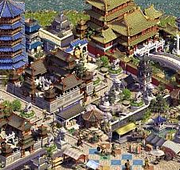 Overview
Deulaegon Byeog is a bustling sity who's main focus is spiritualism and warfare. It focuses more on warfare. Almost on any corner you will find a barrack or a temple. It is run by husband and wife Cheol-ui Wang and Aleumdaun Jangmi Wang. There are also many homes. Its notable structures are its Tower of Deualegon Cheol-ui and the temple of Deaulaegon. Its citizens worship the heaven dragon Deaulegon Cheol-ui and has many things related to it. There are several shamanic groups who use him as the top of their totem pole. This city is also known for its deep connection to the spirits. In the city you will find many, many soldiers walking around patrolling. By this time in life, Deulaegon Byeog has the most weaponry and martial art knowledge and products.
Community content is available under
CC-BY-SA
unless otherwise noted.