The Franks emerged in the 3rd Century, after the Germanic tribes of the
Chatti
, Salians, and Ripuarians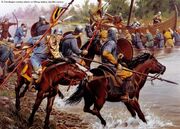 merged into one, large tribe.  France is named after them, and the Franks had a successful empire due to Charlemagne. Charles Martel, a warrior king of theirs, and grandfather of Charlemagne, is famous for saving Europe from Arab invaders and won a large battle with them, though outnumbered.  The Franks religion was Catholicism, and during Charlemagne's time, they were influenced by Roman culture.
Gallery
Community content is available under
CC-BY-SA
unless otherwise noted.