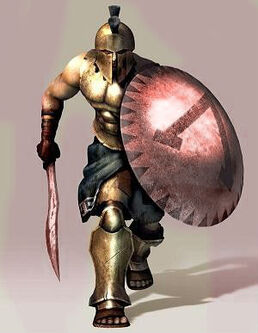 Thalassa is the leading General of the Navy for the Spartan Colony of 
Palaió Froúrio
. He is a great tactician and is usually an ambassador to other colonies/empires. 
(This character is the main RP character of user Maroyasha)
Bio
Littile is known about Thalassa except that his name means "Sea." Befitting his position of Naval General. At a young age he was immediatley facinated by ships. Always helping his father repair and command the ships. Now, at the lead of his own Navy, he rules the seas.
Skills
Great tactical advisor
Quick thinker
Extreme combat training
Years of archery training
Armory
Gold plest chate
Gold shin pads
Gold thight plates
Gold helmet
Red shield
Red sword
Skirt like covering
Community content is available under
CC-BY-SA
unless otherwise noted.